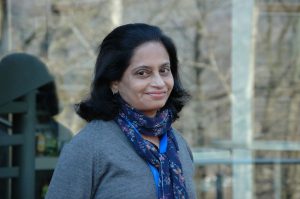 Date/Time
Date(s) - 10/05/2017
4:00 pm - 6:00 pm
Location
Studio Villa Bosch
Categories
HITS "Journalist in Residence" 2017 T.V. Padma (Delhi/India) will give a Public Talk on 10 May 2017 at 4.00 p.m. in Studio Villa Bosch Heidelberg.
Title:
Against the Odds: Indian Science and Science Journalism
Abstract:
As a rapidly growing economy, India is attracting global attention, both for its market opportunities and growing knowledge base. Since the dawn of Independence, successive governments have emphasized science as the key to the country's progress. The country has a mixed science bag: on the one hand, India is recognized today for its achievements in space, biotechnology, information technology, engineering, chemistry and nanotechnology, while its ambitious solar power program has caught the world's attention. On the other hand, the country continues to struggle with high maternal and infant death rates; tuberculosis burden; mosquito-borne infections of malaria and dengue; sanitation and drinking water problems.
In developing countries, achieving economic growth, reducing poverty and ensuring environmental sustainability form what is described as the 'triple helix of development'.  Science, technology and innovation are crucial to this, and research/science communication in particular, has an important role.
To what extent is science covered in India? How do science journalists balance the various perspectives – from the curiosity and excitement of basic science to the pragmatism of applied science; from the research policy focus and priorities to the role of science and science communication of the country's development narrative? Some of their problems are common to science journalists worldwide; others have a more specific context.
Against the odds, India's science is forging ahead. And against a different set of odds, Indian science journalists are soldiering on? What are the challenges and future prospects for Indian science journalists?
For more information about Padma, please click here.
Registration for the talk: benedicta.frech@h-its.org
The talk will be streamed (starting at 3.50 pm CET):
http://webcast2.gigtv.com.au/Mediasite/Play/8e7eda0ca00648b2a420af6c320a62ab1d