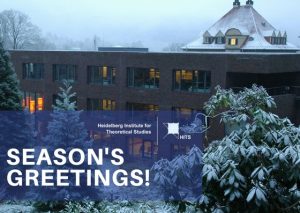 Dear friends and colleagues,
As we come to the end of an eventful and turbulent year, we and all the HITSters send you our best wishes for a peaceful holiday season and a successful New Year.
The New Year will bring a planned change in the HITS management as the position of Scientific Director rotates through the group leaders. Rebecca Wade, who has been Scientific Director for the last two years, will step down from this position at the end of the year. As of 2017, Michael Strube will be Scientific Director, and Wolfgang Müller, who now has his group at the second HITS site in the "Mathematikon", will be his deputy.
With best regards,
Prof. Rebecca Wade (Scientific Director)
Prof. Michael Strube (Deputy Scientific Director)
Dr. Gesa Schönberger (Managing Director)
Instead of sending Christmas gifts, the HITS gGmbH will make a donation to the "Waldpiraten-Camp" of the Deutsche Kinderkrebsstiftung.