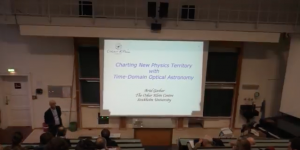 Dieser Inhalt ist nur auf Englisch verfügbar.
From December 12 to 13, 2017, the PSO group hosted Prof. Ariel Goobar from Stockholm University. Ariel is well known for his work on observational cosmology with Type Ia supernovae for which he received several prestigious prizes, including the Gruber Prize in Cosmology 2007 and the Breakthrough Prize in Fundamental Physics in 2014.
Ariel visited Heidelberg to give a talk at the Heidelberg Joint Astronomical Colloquium (HJAC) of the Zentrum für Astronomie der Universität Heidelberg on December 12. In his talk, Ariel presented exciting ideas on "Charting new physics territories with time-domain astronomy". A video recording of the talk is available in the HJAC video channel.
After his colloquium talk, Ariel spent a day with the PSO group to discuss future developments in Type Ia supernovae with the upcoming Zwicky Transient Facility (ZTF).