GADGET – Code
29. October 2014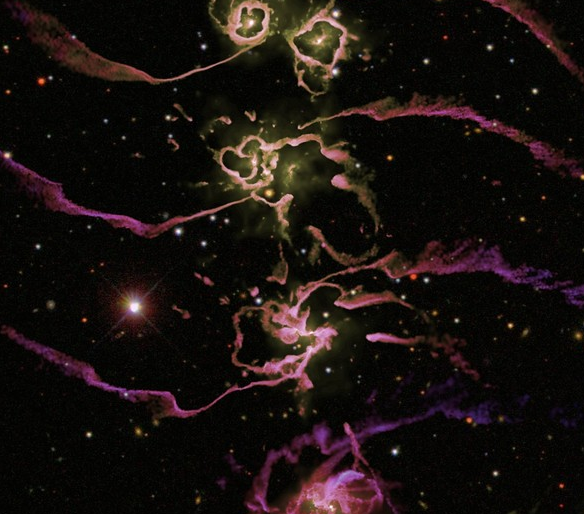 GADGET is a freely available code for cosmological N-body/SPH simulations on massively parallel computers with distributed memory. GADGET uses an explicit communication model that is implemented with the standardized MPI communication interface. The code can be run on essentially all supercomputer systems presently in use, including clusters of workstations or individual PCs.
GADGET computes gravitational forces with a hierarchical tree algorithm (optionally in combination with a particle-mesh scheme for long-range gravitational forces) and represents fluids by means of smoothed particle hydrodynamics (SPH). The code can be used for studies of isolated systems, or for simulations that include the cosmological expansion of space, both with or without periodic boundary conditions. In all these types of simulations, GADGET follows the evolution of a self-gravitating collisionless N-body system, and allows gas dynamics to be optionally included. Both the force computation and the time stepping of GADGET are fully adaptive, with a dynamic range which is, in principle, unlimited.
GADGET can therefore be used to address a wide array of astrophysically interesting problems, ranging from colliding and merging galaxies, to the formation of large-scale structure in the Universe. With the inclusion of additional physical processes such as radiative cooling and heating, GADGET can also be used to study the dynamics of the gaseous intergalactic medium, or to address star formation and its regulation by feedback processes.
The code can be downloaded at the
The principal references for the code are the papers:
The cosmological simulation code GADGET-2
Springel V. (2005)
Monthly Notices of the Royal Astronomical Society, 364, 1105 [ADS]
GADGET: a code for collisionless and gasdynamical cosmological simulations
Springel V., Yoshida N., White S. D. M. (2001)
New Astronomy, 6, 79 [ADS]
About HITS
The Heidelberg Institute for Theoretical Studies (HITS) was established in 2010 by the physicist and SAP co-founder Klaus Tschira (1940-2015) and the Klaus Tschira Foundation as a private, non-profit research institute. HITS conducts basic research in the natural sciences, mathematics and computer science, with a focus on the processing, structuring, and analyzing of large amounts of complex data and the development of computational methods and software. The research fields range from molecular biology to astrophysics. The shareholders of HITS are the HITS-Stiftung, which is a subsidiary of the Klaus Tschira Foundation, Heidelberg University and the Karlsruhe Institute of Technology (KIT). HITS also cooperates with other universities and research institutes and with industrial partners. The base funding of HITS is provided by the HITS Stiftung with funds received from the Klaus Tschira Foundation. The primary external funding agencies are the Federal Ministry of Education and Research (BMBF), the German Research Foundation (DFG), and the European Union.