Woman in Science
23. September 2021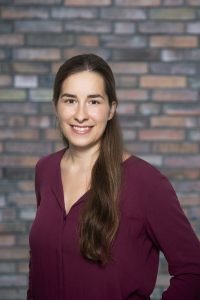 Svenja de Buhr is a doctoral researcher in the MBM group and today one of the protagonists in the video series "Woman in Science" of the Cluster of Excellence 3D Matter Made to Order (3DMM2O), a joint research cluster of the Karlsruhe Institute of Technology (KIT) and Heidelberg University funded by the DFG. In this interview, Svenja talks about her research journey from medical to basic research and how she collaborates with experimental researchers in the cluster.
The video is available here: https://www.youtube.com/watch?v=0-ak503QkZU.
Find the whole video series here: https://www.youtube.com/channel/UCufbI2dodiL46KZS9cYN9mw
The main task of the Cluster 3DMM2O is to take 3D Additive Manufacturing from the macroscale to the micro-, nano-, and eventually to the molecular scale. In 2019, Svenja received a Carl Zeiss Foundation scholarship. The Carl Zeiss Foundation scholarship program offers around 20 stipends for doctoral researchers. If you are interested in more information on the Cluster and the Carl Zeiss Foundation scholarship check the website: www.3dmm2o.de.
About HITS
The Heidelberg Institute for Theoretical Studies (HITS) was established in 2010 by the physicist and SAP co-founder Klaus Tschira (1940-2015) and the Klaus Tschira Foundation as a private, non-profit research institute. HITS conducts basic research in the natural sciences, mathematics and computer science, with a focus on the processing, structuring, and analyzing of large amounts of complex data and the development of computational methods and software. The research fields range from molecular biology to astrophysics. The shareholders of HITS are the HITS-Stiftung, which is a subsidiary of the Klaus Tschira Foundation, Heidelberg University and the Karlsruhe Institute of Technology (KIT). HITS also cooperates with other universities and research institutes and with industrial partners. The base funding of HITS is provided by the HITS Stiftung with funds received from the Klaus Tschira Foundation. The primary external funding agencies are the Federal Ministry of Education and Research (BMBF), the German Research Foundation (DFG), and the European Union.