Kosmologische Jungferntaufe in Heidelberg
23. September 2010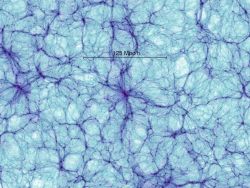 This content is only available in German.
Workshop des "Virgo Consortium" – führende theoretische Astrophysiker treffen sich am HITS – Supercomputer-Simulationen zur Entstehung von Galaxien und zur Dunklen Materie
Theoretische Astrophysiker aus europäischen Ländern schlossen sich vor fünfzehn Jahren zum "Virgo Consortium" zusammen. Daraus entstand die führende Arbeitsgruppe in diesem Bereich außerhalb der USA. Das Ziel des Konsortiums ist es, kosmologische Simulationen auf Supercomputern mit höchstmöglicher Präzision durchzuführen und auszuwerten. Das jährliche Arbeitstreffen findet am 27./28.09.2010 erstmals in Heidelberg statt. Gastgeber ist HITS-Gruppenleiter Volker Springel, der zugleich eine Professur für Theoretische Astrophysik an der Universität Heidelberg innehat.
Rund fünfzig Forscher treffen sich im Tagungszentrum Studio Villa Bosch, die Bandbreite reicht vom Doktoranden bis zum Direktor. Mit dabei sind auch Prof. Simon White, Direktor des Max-Planck-Instituts für Astrophysik (MPA) in Garching sowie Prof. Carlos Frenk (Durham University, UK). Im Zentrum des Workshops steht die Auswertung der bislang größten Simulation, die in diesem Sommer auf dem Supercomputer in Jülich gerechnet wurde.
Die Forschungsfelder des Virgo Consortiums umfassen unter anderem die Verteilung von dunkler Materie auf großen Skalen, die Entstehung sogenannter Halos aus dunkler Materie, die Bildung und Entwicklung von Galaxien und Clustern sowie die Physik des intergalaktischen Gases, das den Raum zwischen den Galaxien füllt.
Mehr zum Virgo-Konsortium.
Pressekontakt:
Dr. Peter Saueressig
Presse- und Öffentlichkeitsarbeit
HITS Heidelberger Institut für Theoretische Studien
Tel: +49-6221-533-245
Email: peter.saueressig@h-its.org
Wenn Sie Interesse an einem Gespräch mit Volker Springel, Simon White oder Carlos Frenk haben, melden Sie sich bitte per E-Mail.
Wissenschaftlicher Ansprechpartner:
Prof. Dr. Volker Springel
HITS Heidelberger Institut für Theoretische Studien
Tel: +49-6221-533-241
Email: volker.springel@h-its.org
About HITS
The Heidelberg Institute for Theoretical Studies (HITS) was established in 2010 by the physicist and SAP co-founder Klaus Tschira (1940-2015) and the Klaus Tschira Foundation as a private, non-profit research institute. HITS conducts basic research in the natural sciences, mathematics and computer science, with a focus on the processing, structuring, and analyzing of large amounts of complex data and the development of computational methods and software. The research fields range from molecular biology to astrophysics. The shareholders of HITS are the HITS-Stiftung, which is a subsidiary of the Klaus Tschira Foundation, Heidelberg University and the Karlsruhe Institute of Technology (KIT). HITS also cooperates with other universities and research institutes and with industrial partners. The base funding of HITS is provided by the HITS Stiftung with funds received from the Klaus Tschira Foundation. The primary external funding agencies are the Federal Ministry of Education and Research (BMBF), the German Research Foundation (DFG), and the European Union.