Klaus Tschira Foundation celebrates anniversary with HITS
23. January 2015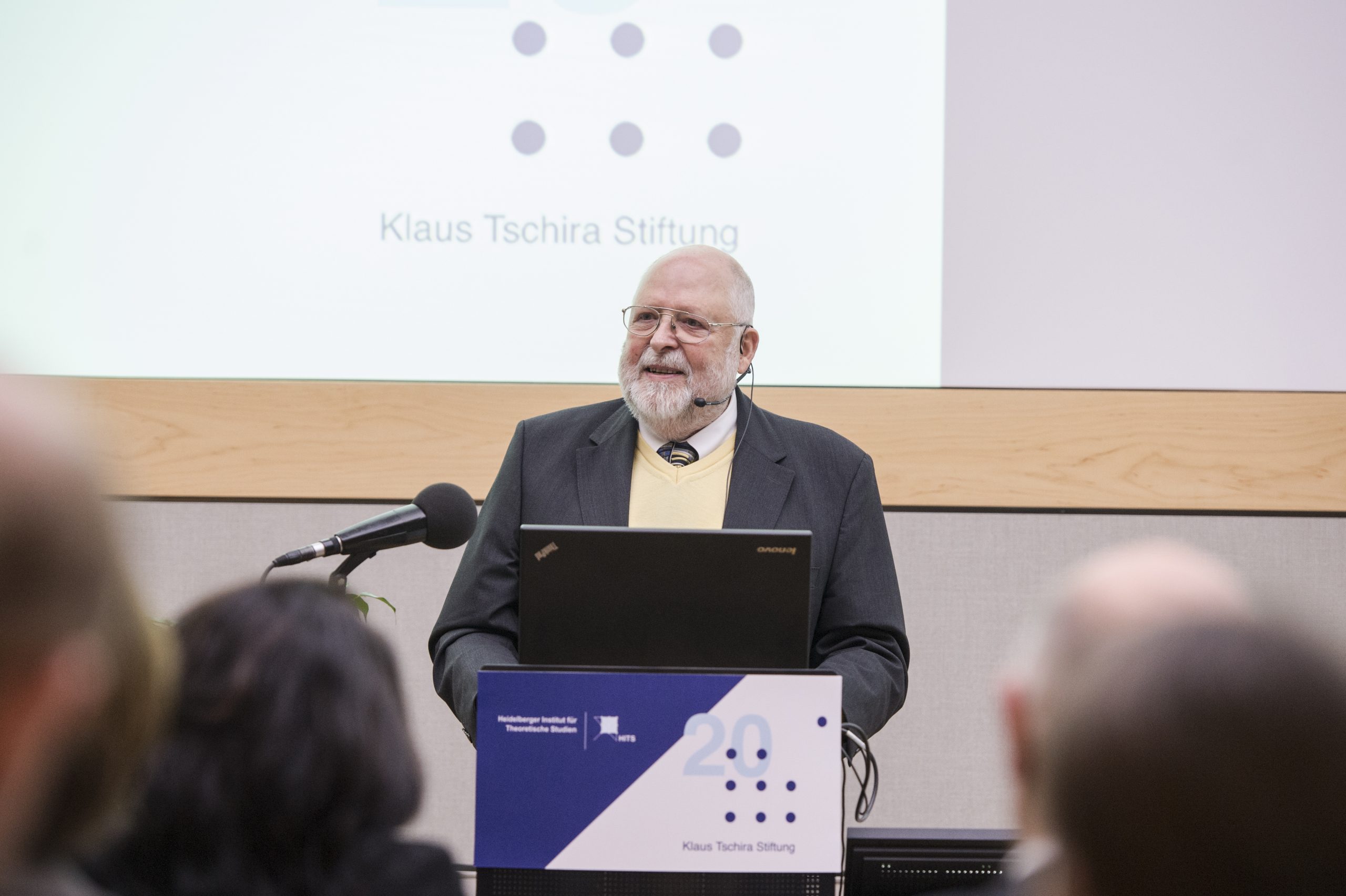 Heidelberg Institute for Theoretical Studies (HITS) organized a scientific symposium on the occasion of the 20th anniversary of the Klaus Tschira Foundation – Welcome speech by Theresia Bauer (Baden-Württemberg Ministry for Science) – From molecules to galaxies: talks and presentations on computational research
The Klaus Tschira Foundation (KTF) was founded in 1995 by Klaus Tschira. Over the years, it has become one of the biggest private nonprofit foundations in Europe. For their anniversary year, the KTF institutions have drawn up a special program. The first event was a scientific symposium, hosted by the Heidelberg institute for Theoretical Studies (HITS) at the Studio Villa Bosch.
"The KTF has promoted research in natural sciences from the very beginning," said Klaus Tschira in his welcome speech. "Unlike most research centers, HITS does not focus on just one discipline – it has always been our intention to make it an interdisciplinary institute. I am firmly convinced that there lies enormous potential for new findings at the borderlines of traditional fields of research." The founder of the KTF is delighted that HITS has become internationally renowned within only a few years. "Two of our scientists are among the most highly cited researchers worldwide."
Theresia Bauer, Minister for Science, Research and Arts in Baden-Württemberg, gave a welcome speech as well. "HITS is an outstanding example for illustrating how private funding can support excellent research. We are extremely grateful for the work of the Klaus Tschira Foundation. The successful cooperation between the Heidelberg Institute for Theoretical Studies and the Karlsruhe Institute of Technology and Heidelberg University proves that HITS has evolved into one of the best research centers in Baden-Württemberg."Research needs institutes like HITS," added Prof. Wolf-Dieter Lukas (Federal Ministry for Education and Research). "If Klaus Tschira hadn't founded this institute, we would have to found it today."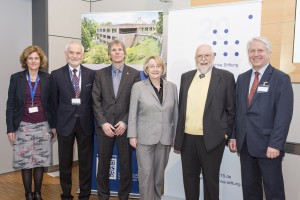 Prof. Bernhard Eitel and Prof. Holger Hanselka, Rectors of Heidelberg University and Karlsruhe Institute of Technology (KIT), also attended the event. Both universities are working closely together with HITS. Examples are their joint appointments for new professorships and graduate schools. Since the beginning of 2015, Heidelberg University and KIT are also shareholders of HITS.
"Klaus Tschira is a founder, patron and donor to Heidelberg University," said Bernhard Eitel. "We really appreciate his unprejudiced and science-oriented approach. He is excited about new findings and shows us how much he enjoys it when we are able to discover, develop and pass on new findings thanks to his support".
"HITS is an asset to science. In today's world, interdisciplinary, creative approaches are more important than ever," underlined Holger Hanselka. "KIT and HITS complement one another perfectly when it comes to their topics and methods. Our joint appointments and research groups make this very clear. We are pleased to have become an active part of HITS through the Klaus Tschira Foundation."
During the event, HITS's eleven research groups presented their fields of research – from astrophysics to cell biology – with hands-on demontrations, posters and videos.
Astrophysicist Prof. Mark Vogelsberger (MIT Massachusetts Institute of Technology) and biophysicist Prof. Jeremy Smith (Oak Ridge National Laboratory, Tennessee) gave scientific speeches. Both scientists cooperate closely with researchers from HITS. Their presentations showed how so-called "data-driven" research provides opportunities for natural science by using mathematical modeling and computer simulations.
Prof. Mark Vogelsberger presented the "Illustris" simulation – the currently most detailed illustration of how galaxies evolve. This simulation is the result of joint research between Prof. Vogelsberger and HITSter Prof. Volker Springel who wrote the code for the simulation.
Prof. Jeremy Smith talked about the range of possibilities so-called "computational science" offers, from analyses in the field of environmental protection to the development of new drugs. Prof. Rebecca Wade, Scientific Director of HITS, has been doing research on such pharmaceutical applications of computational science for a long time and has also worked together with Prof. Smith.
The piano trio aisthesis / KlangForum Heidelberg provided a wonderful musical accompaniment for the symposium.
The Heidelberg Institute for Theoretical Studies (HITS gGmbH) was established in 2010 by SAP co-founder Klaus Tschira through his foundation, the "Klaus Tschira Stiftung", as a private, non-profit research institute. HITS conducts basic research involving the processing structuring and anaysis of large amounts of data in the natural sciences, mathematics and computer science. The research topics range from molecular biology to astrophysics. Shareholders of HITS are the "HITS-Stiftung", Heidelberg University and the Karlsruhe Institute of Technology (KIT). HITS cooperates with universities and research institutes, as well as with industrial partners. The prime external funding sources are the Federal Ministry of Education and Research, the German Research Foundation  and the European Union.
Press Contact:
Dr. Peter Saueressig
Head of Communications
Heidelberger Institut für Theoretische Studien (HITS)
Phone: +49-6221-533245
Peter.saueressig@h-its.org
www.h-its.org
Twitter: @HITStudies
About HITS
HITS, the Heidelberg Institute for Theoretical Studies, was established in 2010 by physicist and SAP co-founder Klaus Tschira (1940-2015) and the Klaus Tschira Foundation as a private, non-profit research institute. HITS conducts basic research in the natural, mathematical, and computer sciences. Major research directions include complex simulations across scales, making sense of data, and enabling science via computational research. Application areas range from molecular biology to astrophysics. An essential characteristic of the Institute is interdisciplinarity, implemented in numerous cross-group and cross-disciplinary projects. The base funding of HITS is provided by the Klaus Tschira Foundation.