T.V. Padma: "A focus not on deadlines, but on learning new things."
14. August 2017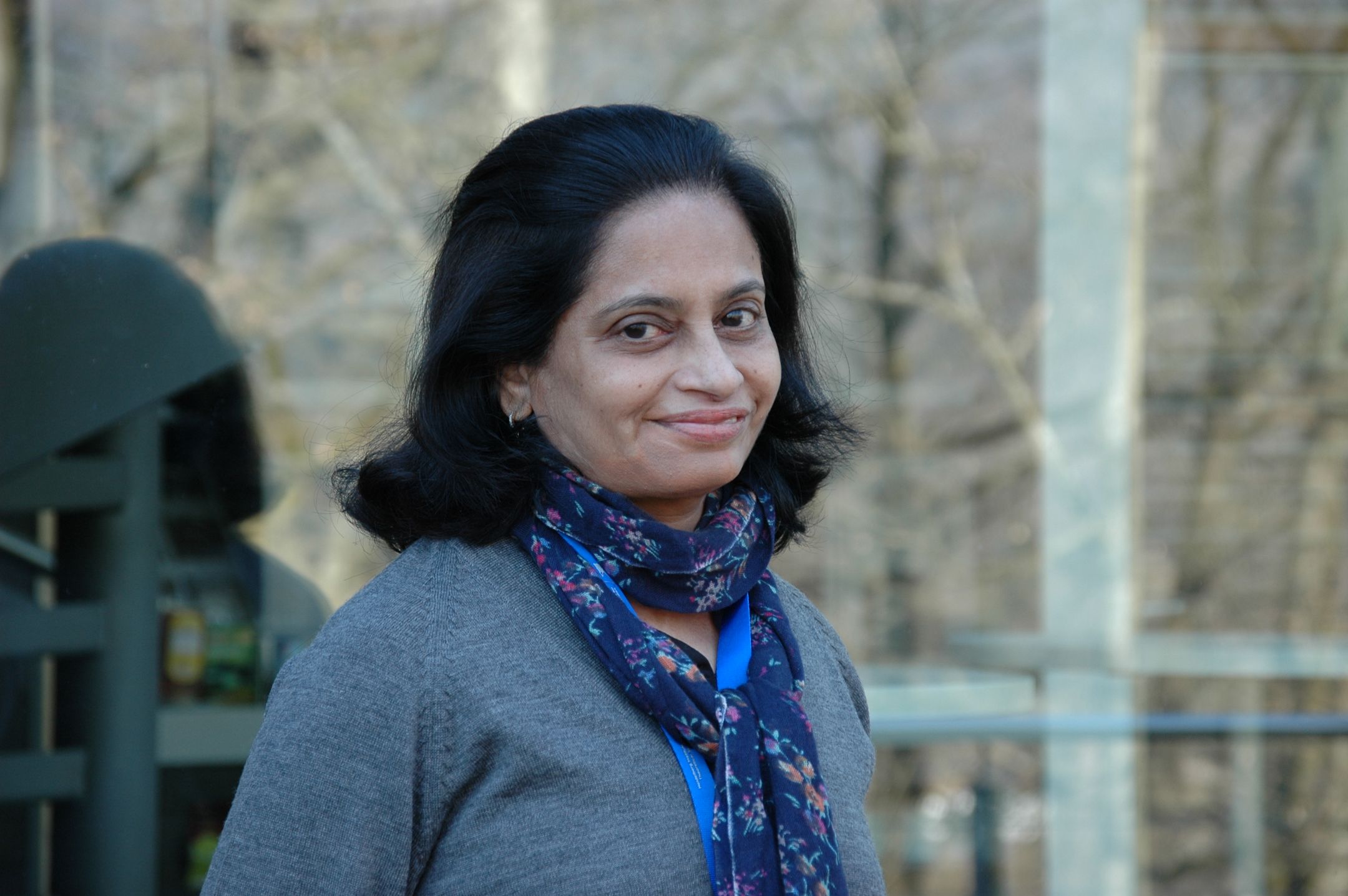 She walks up the steps to the entrance gate, stops suddenly and turns around to look back on the green garden and the red brick building. "I'm really rather sad to be leaving this place," T.V. Padma confesses. The Indian science journalist is now returning to Delhi after spending five months as the 6th journalist in residence at HITS.
Padma is a freelance science journalist who writes for Nature, New Scientist, Physics World, and other media outlets. She was a science correspondent for India's leading news agency, Press Trust of India (PTI), and editor-in-chief of the first South Asian regional office of SciDev.Net. She was selected as the 2017 HITS journalist in residence out of 40 candidates from 23 countries.
New projects launched during her stay
"This program is a rare opportunity," she explains. "Life as a journalist is a mad rush for deadlines, under high pressure. For five months, my focus was not on deadlines, but on learning new things." Padma attended scientific meetings, had conversations with HITS group leaders, met several German and other European science journalists, and enjoyed cheerful lunch breaks with the Astroinformatics group. "I learned a lot about how to deal with data," she smiles. "It helped me to set up my own data journalism projects." She also held an internal seminar with the HITSters on social media and gave a public talk on science and science journalism in India. And she got to know Heidelberg better. "At first it fulfilled all the clichés of a picture postcard," she said in an interview with the local newspaper. "But soon I discovered that this city is full of science, an ideal place for a science journalist."
Padma is returning to Delhi with some new projects that started at HITS. One is to investigate data on extreme weather events in the Himalaya region together with the Computational Statistics group. "This was probably one of the most wonderful phases of my whole professional life," she says, ascending the last steps to the gate.
About HITS
The Heidelberg Institute for Theoretical Studies (HITS) was established in 2010 by the physicist and SAP co-founder Klaus Tschira (1940-2015) and the Klaus Tschira Foundation as a private, non-profit research institute. HITS conducts basic research in the natural sciences, mathematics and computer science, with a focus on the processing, structuring, and analyzing of large amounts of complex data and the development of computational methods and software. The research fields range from molecular biology to astrophysics. The shareholders of HITS are the HITS-Stiftung, which is a subsidiary of the Klaus Tschira Foundation, Heidelberg University and the Karlsruhe Institute of Technology (KIT). HITS also cooperates with other universities and research institutes and with industrial partners. The base funding of HITS is provided by the HITS Stiftung with funds received from the Klaus Tschira Foundation. The primary external funding agencies are the Federal Ministry of Education and Research (BMBF), the German Research Foundation (DFG), and the European Union.