ELIXIR facilitates development of COVID-19 Disease Map
18. May 2020
HITS researchers collaborate with ELIXIR Nodes to contribute to the development of a knowledgebase of SARS-CoV-2 virus host-pathogen interactions.
Announced last week in "Scientific data", the COVID-19 Disease Map is an international effort to organize the molecular processes underlying the virus-host interactions in COVID-19.
Based on the rapidly growing body of scientific literature and curated by domain experts, the resource will allow visual exploration and computational analyses of molecular processes involved in SARS-CoV-2 entry, replication, and host-pathogen interactions, as well as host cell recovery and repair mechanisms.
The resource will improve researchers' understanding of COVID-19 and speed up the development of efficient diagnostics and therapies. It will also facilitate collaboration between clinicians, virologists, or computational biologists in developing robust disease models or in repositioning of existing drugs.
The COVID-19 Disease Map is led by ELIXIR Luxembourg, and is being developed as one of the services offered by the Node. The MINERVA Platform, run by the Node, is dedicated to visual exploration and analytics of disease maps. It serves as one of the central repositories of the COVID-19 Disease Map, providing interactive visualization, search capabilities and conversion between systems biology formats.
The consortium includes 196 contributors from 31 countries, including several other ELIXIR Nodes (ELIXIR Spain, France, Italy, UK, Netherlands, Germany, EMBL-EBI and Norway). Thanks to close operational links between different ELIXIR Nodes, the initiative could quickly build on existing synergies and establish connections to other resources.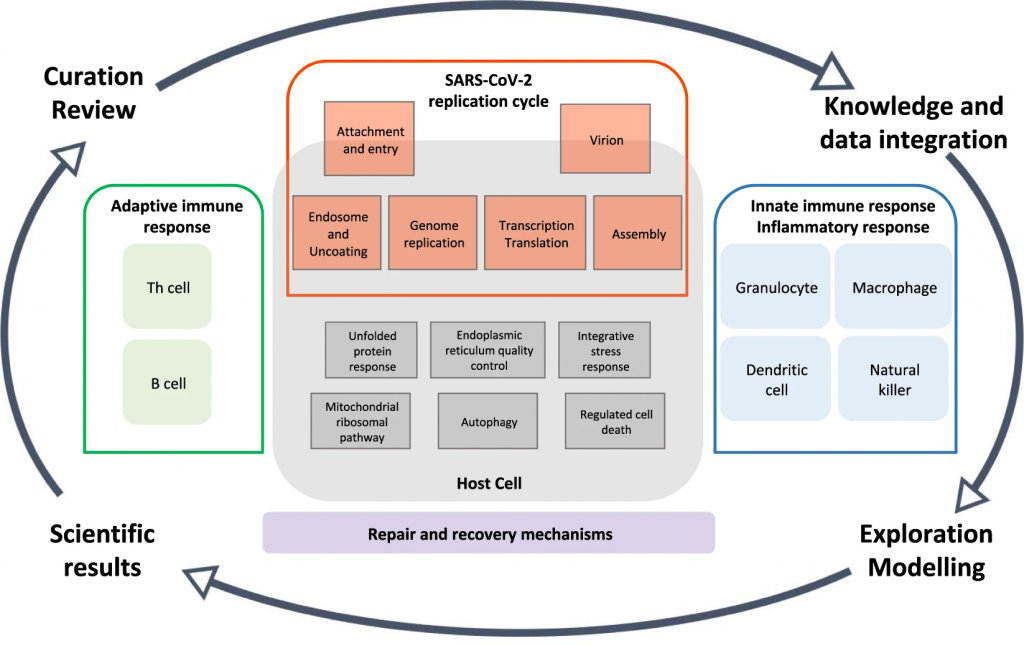 Extending ELIXIR Nodes' collaborations
The COVID-19 Disease Map takes advantage of the FAIRDOM initiative developed by members of ELIXIR Germany and ELIXIR UK. Based on the SEEK software, the project space on FAIRDOMHub provides a transparent and efficient way of organizing researchers and research assets related to the project: https://fairdomhub.org. The SEEK software for scientific data management in the life sciences has been developed over the last 12 years by members of the Scientific Databases and Visualization group (SDBV) of HITS together with partners at the University of Manchester (UK) and is a recognized ELIXIR UK Resource. It now helps around 200 researchers worldwide in their efforts to unravel and visually explore the molecular processes underlying virus infections and disease mechanisms in COVID-19.
The contributions from ELIXIR Netherlands center around WikiPathways, a resource that uses the BridgeDb ELIXIR Recommended Interoperability Resource to link to various ELIXIR core data resources and allows analysis for data from ELIXIR recommended repositories.
Just this week, a workflow scheme for conversion and interoperability between the various resources in the COVID-19 Disease Map, and a design to capture evidence for individual reactions and evaluation of data analysis options were developed at the ELIXIR interoperability online hackathon.
Marek Ostaszewski, the project leader from ELIXIR Luxembourg said: "As part of ELIXIR we could tap into the rich network of collaborations between ELIXIR Nodes and capitalize on ongoing projects within ELIXIR. Thus, we could quickly connect with our colleagues in many ELIXIR nodes and benefit from their work on interoperability resources like BridgeDb, Identifiers.org and the FAIRDOM and SEEK initiatives. The ability to react quickly and build on existing efforts is important in any situation, but it is absolutely critical in public health emergencies such as the current pandemic."
The initiative is open to any domain expert who wants to contribute to building the knowledge base or developing data models for diagnostics and treatments of the disease.
Read more:
About HITS
HITS, the Heidelberg Institute for Theoretical Studies, was established in 2010 by physicist and SAP co-founder Klaus Tschira (1940-2015) and the Klaus Tschira Foundation as a private, non-profit research institute. HITS conducts basic research in the natural, mathematical, and computer sciences. Major research directions include complex simulations across scales, making sense of data, and enabling science via computational research. Application areas range from molecular biology to astrophysics. An essential characteristic of the Institute is interdisciplinarity, implemented in numerous cross-group and cross-disciplinary projects. The base funding of HITS is provided by the Klaus Tschira Foundation.