Biomedisa – an open-source online platform for biomedical image segmentation
2. September 2021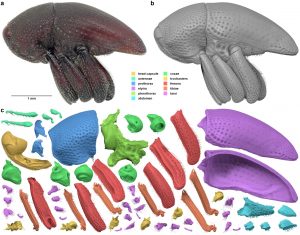 In many scientific disciplines, the key to extracting meaningful information from large three-dimensional images, obtained from X-ray tomography or optical microscopy, is segmentation, a tedious and time-consuming – and therefore error-prone – task if done manually.
The Biomedical Image Segmentation App "Biomedisa" (https://biomedisa.org) is a free and easy-to-use open-source online platform especially developed for semi-automatic segmentation. The segmentation is based on a smart interpolation of sparsely pre-segmented slices considering the complete underlying image data
The semi-automatic method is particularly suitable for 3D data sets of individual samples of unknown morphology as well as for generating training data for an automated segmentation of sample series. For this purpose, "Biomedisa" enables the training of so-called Convolutional Neural Networks (CNNs) to enable a largely automatic segmentation of many samples with similar morphology.
The platform is accessible through a web browser and requires no complex and tedious configuration of software and model parameters. The one-button solution can be used for different 3D imaging modalities and various biomedical applications.
"Biomedisa" was developed by the Data Mining an Uncertainty Quantification (DMQ) group at HITS.
References:
Philipp D. Lösel, Thomas van de Kamp, Alejandra Jayme, Alexey Ershov, Tomáš Faragó, Olaf Pichler, Nicholas Tan Jerome, Narendar Aadepu, Sabine Bremer, Suren A. Chilingaryan, Michael Heethoff, Andreas Kopmann, Janes Odar, Sebastian Schmelzle, Marcus Zuber, Joachim Wittbrodt, Tilo Baumbach & Vincent Heuveline: Introducing Biomedisa as an open-source online platform for biomedical image segmentation. Nature Communications, 4 November 2020. DOI 10.1038/s41467-020-19303-w
Tutorials:
Follow this link to the Biomedisa YouTube channel.
About HITS
HITS, the Heidelberg Institute for Theoretical Studies, was established in 2010 by physicist and SAP co-founder Klaus Tschira (1940-2015) and the Klaus Tschira Foundation as a private, non-profit research institute. HITS conducts basic research in the natural, mathematical, and computer sciences. Major research directions include complex simulations across scales, making sense of data, and enabling science via computational research. Application areas range from molecular biology to astrophysics. An essential characteristic of the Institute is interdisciplinarity, implemented in numerous cross-group and cross-disciplinary projects. The base funding of HITS is provided by the Klaus Tschira Foundation.