Carl Smith – Journalist in Residence 2022
27. June 2022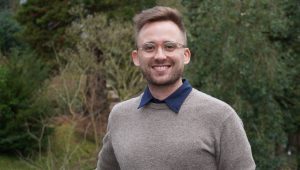 Australian science journalist Carl Smith was the HITS "Journalist in Residence" in 2022. He is a staff science journalist and presenter working for the Australian Broadcasting Corporation (ABC) and works on complex science stories across radio, television, and online. Carl has earned degrees in molecular genetics and journalism. He has received a Walkley Award, and has been featured in The Best Australian Science Writing in 2018, 2019 and 2020. He was a finalist for the 2020 Eureka Prize for Science Journalism, and jointly won this Prize in 2021. He also serves as a committee member of the Science Journalists Association of Australia.
Carl Smith arrived at the institute in January 2022. He aimed to report on stories "that are hard to access from Australia", as he says, to build new networks for collaboration and knowledge-sharing, and explore new ways to support science journalists and independent science reporting in Australia. He used his time here "to switch off from the regular weekly filing and deadlines and to dream up new projects."
During his stay, he conceived and worked on a series of profiles about researchers who work in unusual parts of the world for a new series of audio and written stories. This included self-funded trips to places in Germany, Estonia, France and Switzerland.
He also met with various publications and German science journalism organizations, such as the WPK, the Science Media Center Germany, Spektrum, Riff Reporter, and other Journalists in Residence.
As a member of the Science Journalists Association of Australia, he discussed opportunities for exchange programs between Australian and European journalists. And last but not least, he contributed his experiences to help with the ERC's new EU-wide Journalists in Residence program that has been modeled on the HITS program.
Apart from this, Carl Smith engaged heavily with the HITSters, attending talks, group meetings and social events. He offered them an internal seminar on communicating science to kids and gave a public talk on different strategies in facing the Corona pandemic.
About his stay at the Institute he says: "The HITS Journalist in Residence program is a boon for independent science journalism and one that I would love to see emulated elsewhere in the world. It allows journalists to disentangle themselves from daily or weekly deadlines and to focus on the kinds of projects that drew them into the field in the first place."
About HITS
HITS, the Heidelberg Institute for Theoretical Studies, was established in 2010 by physicist and SAP co-founder Klaus Tschira (1940-2015) and the Klaus Tschira Foundation as a private, non-profit research institute. HITS conducts basic research in the natural, mathematical, and computer sciences. Major research directions include complex simulations across scales, making sense of data, and enabling science via computational research. Application areas range from molecular biology to astrophysics. An essential characteristic of the Institute is interdisciplinarity, implemented in numerous cross-group and cross-disciplinary projects. The base funding of HITS is provided by the Klaus Tschira Foundation.