Sarbani Basu
3. August 2023
Klaus Tschira Guest Professor, September – November 2022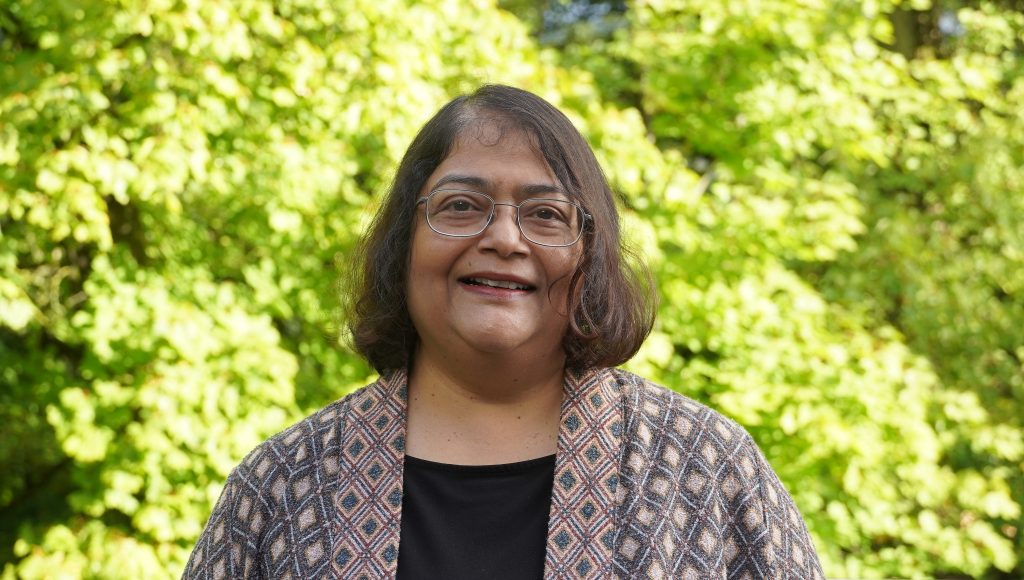 "It´s almost like being a postdoc again", says Sarbani Basu, sitting at the desk of her office that is looking on to the garden. "This is a fantastic program." The sun research specialist and former chair of the department of astronomy at Yale University, Connecticut (USA) is the second Klaus Tschira Guest Professor at HITS, and spent more than two months at the institute, from mid-September to late November 2022.
The Klaus Tschira Guest Professorship Program aims to enhance international exchange and scientific collaboration at HITS. Internationally renowned scientists are invited for sabbaticals or extended research stays. They collaborate with scientists at HITS, develop joint research projects, and engage with the wider scientific community at the institute and in the Heidelberg region. In 2023, HITS will host another two Klaus Tschira Guest Professors.
Sarbani Basu used her stay to mainly collaborate with the "Theory and Observations of Stars" (TOS) research group led by Saskia Hekker. "I have known Saskia for quite a long time and started working with her when she was a postdoc in Birmingham", she recalls. "Here at HITS, I am working with her and her group on a long-time project about the interior structure of stars. I hope we will be ready to publish some results in a year´s time." Moreover, she is collaborating with TOS postdoc Felix Ahlborn on the rotations inside the stars. "For this, he will use the inversion technique I had developed, and which he enhanced, to investigate these rotations", she explains.
During her stay, she gave a HITS colloquium talk on the physics of the sun in early October, and delivered further talks at Heidelberg, as well as at the joint colloquim series of the Max Planck Institute for Astrophysics (MPA), the Max Planck Institute for Extraterrestrial Physics (MPE) and the European Southern Observatory (ESO) in Garching. She also enjoyed the opportunity to engage in discussions with scientists from other scientific disciplines at HITS, for example in the coffee bar or on her daily commute in the "Science Bus" that connects the HITS campus to the city.
In the course of her fellowship, the collaboration with Saskia Hekker gained momentum. "We can continue with it remotely when I am back in the U.S.", Sarbani Basu says. "After six years of running the department of astronomy at Yale, being completely away helped me to start thinking about science again." And she adds: "This program is an amazing opportunity to sit down and just concentrate on science."

(From the HITS Newsletter "The Charts", issue 1-2023)


About HITS
HITS, the Heidelberg Institute for Theoretical Studies, was established in 2010 by physicist and SAP co-founder Klaus Tschira (1940-2015) and the Klaus Tschira Foundation as a private, non-profit research institute. HITS conducts basic research in the natural, mathematical, and computer sciences. Major research directions include complex simulations across scales, making sense of data, and enabling science via computational research. Application areas range from molecular biology to astrophysics. An essential characteristic of the Institute is interdisciplinarity, implemented in numerous cross-group and cross-disciplinary projects. The base funding of HITS is provided by the Klaus Tschira Foundation.