Anil Ananthaswamy – Journalist in Residence 2023
15. November 2023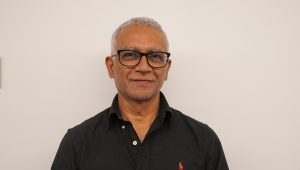 Indian-American science journalist and author Anil Ananthaswamy was the 11th "Journalist in Residence" at the Heidelberg Institute for Theoretical Studies (HITS). He joined the institute in late April 2023 and stayed there for six months.
During his time at HITS, Anil provided an internal seminar for HITS researchers about "the seeds of stories" and gave a public talk on "ChatGPT and its ilk" (see the video on YouTube). He also explored the scientific environment in Heidelberg, meeting scientists from Heidelberg University and other institutions and paying a visit to colleagues and editors at the Springer Nature publishing company. He also used the occasion to travel to other places in Germany, where he had been invited as a panelist or a speaker, at universities and at a film festival.
Why did he apply for this program? "I very much appreciated the respect for the ethics of journalistic independence", Anil Ananthaswamy says. "And I was intrigued to meet the research groups on Astroinformatics (AIN) as well as Machine Learning and Artificial Intelligence (MLI)."
Before he came to HITS, he had finished the draft of his book "Why Machines Learn", on the mathematics of machine learning. "I pursued two main projects here: First, I wanted to write some code to be able to explain the simple algorithms and math that is described in the book. Second, I learned a lot about generative AI." The conversations with HITS group leaders Kai Polsterer and Jan Stühmer were not only inspiring, but also helpful for preparing for a session on generative AI that Anil Ananthaswamy moderated at this year's Heidelberg Laureate Forum (HLF) in September.
After his time at HITS, Anil Ananthaswamy will focus on his new book which comes out in July 2024. He will also go back to writing about artificial intelligence and machine learning and physics for magazines and is already thinking about new ideas for his next book.
About his stay as a Journalist in Residence he says: "HITS is a wonderful institute. I'll really miss the peace and quiet of this place to be able to think deeply about things that you are working on. I will also miss Heidelberg. It's a wonderful city."
And he adds: "My message for anyone who is coming here as HITS Journalist in Residence would be to think in advance and deeply about how you are going to utilize these 3-6 months. It's a very nice place to work."
About HITS
HITS, the Heidelberg Institute for Theoretical Studies, was established in 2010 by physicist and SAP co-founder Klaus Tschira (1940-2015) and the Klaus Tschira Foundation as a private, non-profit research institute. HITS conducts basic research in the natural, mathematical, and computer sciences. Major research directions include complex simulations across scales, making sense of data, and enabling science via computational research. Application areas range from molecular biology to astrophysics. An essential characteristic of the Institute is interdisciplinarity, implemented in numerous cross-group and cross-disciplinary projects. The base funding of HITS is provided by the Klaus Tschira Foundation.