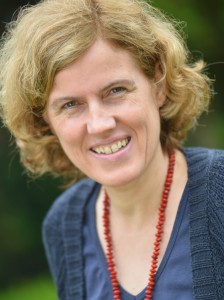 HITS Molecular and Cellular Modeling group leader and HITS scientific director Prof. Dr. Rebecca Wade was awarded the International Society of Quantum Biology and Pharmacology (ISQBP) Award in Computational Biology. The ceremony took place at the 2016 ISQBP President's Meeting in Bergen, Norway, at the end of June.
The ISQBP Award in Computational Biology is given biannually at the President's Meeting to a researcher that has performed high-quality research in a field of interest to the ISQBP and has served the society or the interests of the society.
The International Society of Quantum Biology and Pharmacology is a society founded in 1970 to provide a forum for chemists, pharmacologists and biologists to discuss and extend the impact of computational methodologies in the fields of biology, chemistry, medicinal chemistry, chemical biology, drug discovery, pharmacology, bioinformatics, genomics and proteomics.
To achieve the mission of the ISQBP, the society provides forums for the interface between scientists working in the areas of theoretical chemistry and computer science with those performing experimental studies as well as nurturing interactions with other disciplines and other societies so as to foster interdisciplinary research. In addition, the society provides opportunities for student and postdoctoral training via workshops sponsored entirely or in part by the society.
Rebecca C. Wade is a distinguished researcher in computational biology, with a record of more than three decades in this field. Her research is primarily focused on the modeling and simulation of protein interactions. She leads the "Molecular and Cellular Modeling" group at the Heidelberg Institute for Theoretical Studies (HITS) and is currently the institute´s Scientific Director. Moreover, she is a full professor at the Heidelberg University Center for Molecular Biology of Heidelberg University (ZMBH).
More on Rebecca Wade
Press contact:
Dr. Peter Saueressig
Head of Communications
Heidelberg Institute for Theoretical Studies (HITS)
Phone: +49-6221-533245
Peter.saueressig@h-its.org
www.h-its.org
Twitter: @HITStudies