Ariane Nunes-Alves
10. January 2018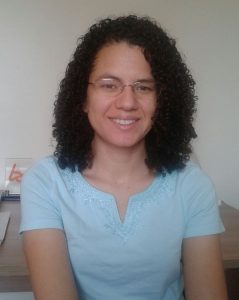 Research Interests
Kinetics and thermodynamics of ligand-protein binding

Molecular modeling and simulation of protein conformational transitions
Employment
201

8

– present:

p

ostdoctoral

r

esearcher, Heidelberg Institute for Theoretical Studies, Germany
Education
2017 – PhD in Biochemistry, University of São Paulo, Brazil (dissertation)

2013 – MSc in Biochemistry, University of São Paulo, Brazil (thesis)

2010 – BSc in Biology, University of São Paulo, Brazil
Publications
Nunes-Alves, A.; Zuckerman, D.M.; Arantes, G.M. Escape of a small molecule from inside T4 lysozyme by multiple pathways. Biophys. J., 114: 1058-1066, 2018.
Nunes-Alves, A.; Arantes, G.M. Mechanical unfolding of macromolecules coupled to bond dissociation. J. Chem. Theory Comput., 14: 282-290, 2018.
Nunes-Alves, A.; Arantes, G.M. Ligand-receptor affinities computed by an adapted linear interaction model for continuum electrostatics and by protein conformational averaging. J. Chem. Inf. Model., 54: 2309-2319, 2014.
Nunes-Alves, A.; Nery, A.A.; Ulrich, H. Tobacco nitrosamine N-nitrosonornicotine as inhibitor of neuronal nicotinic acetylcholine receptors. J. Mol. Neurosci., 49: 52-61, 2013.
Yuahasi, K.K.; Gomes, K.N.; Campos, M.; Nery, A.A.; Nunes-Alves, A.; Trujillo, C.A.; Ulrich, H. Neurotransmitters as main players in the neural differentiation and fate determination game. In: Henning Ulrich. (Org.). Perspectives of stem cells – From tools for studying mechanisms of neuronal differentiation towards therapy. Dordrecht Heidelberg London Ne: Springer Science + Business Media, ISBN 978-90-481-3374-1, p. 115-134, 2010.

Awards and Fellowships (selected)
Capes-Humboldt Research Fellowship for postdoctoral research (2019-2021)

CellNetworks funding for postdoctoral research (2018-2019)

Travel award from the Biophysical Society (2014)

Travel award from the Institute of Chemistry, University of São Paulo (2013)

Best poster presentation in the area of Computational Biochemistry at the XLII Annual Meeting of the Brazilian Society for Biochemistry and Molecular Biology (2013)

Travel award from the Society for Research on Nicotine and Tobacco – Europe (2010)

Best poster presentation in the area of Ion Channels and Transporters at the XXIV Annual Meeting of the Federation of Societies for Experimental Biology (2009)
About HITS
The Heidelberg Institute for Theoretical Studies (HITS) was established in 2010 by the physicist and SAP co-founder Klaus Tschira (1940-2015) and the Klaus Tschira Foundation as a private, non-profit research institute. HITS conducts basic research in the natural sciences, mathematics and computer science, with a focus on the processing, structuring, and analyzing of large amounts of complex data and the development of computational methods and software. The research fields range from molecular biology to astrophysics. The shareholders of HITS are the HITS-Stiftung, which is a subsidiary of the Klaus Tschira Foundation, Heidelberg University and the Karlsruhe Institute of Technology (KIT). HITS also cooperates with other universities and research institutes and with industrial partners. The base funding of HITS is provided by the HITS Stiftung with funds received from the Klaus Tschira Foundation. The primary external funding agencies are the Federal Ministry of Education and Research (BMBF), the German Research Foundation (DFG), and the European Union.
This page is only available in English