Habilitation for HITSter Rüdiger Pakmor
13. March 2018
The astrophysicist Dr. Rüdiger Pakmor from the Theoretical Astrophysis group (TAP) successfully completed the habilitation process at Heidelberg University. At the end of January, the faculty committee of physics and astronomy presented him the certificate of venia legendi. He develops novel numerical methods and applies them, among others, to galaxy formation and supernova explosions. Pakmor co-authors several publications and big cosmological simulations, like "Auriga" and "IllustrisTNG". After alumnus Prof. Christoph Pfrommer, this is the second habilitation attained by a HITSter.
Rüdiger Pakmor´s career steps: 2001-2006 studies of Physics at the Technical University of Munich, diploma thesis at the Max-Planck-Institute for Astrophysics (MPA) in Garching, 2006 Physics diploma. 2007-2010 Ph.D. student at the MPA, PhD in Physics from Technical University of Munich 2010. In 2010, Rüdiger Pakmor joined the TAP group at HITS (head: Prof. Volker Springel) as a Postdoc researcher. Since February 1, 2018, he has been holding a "staff scientist" position at HITS.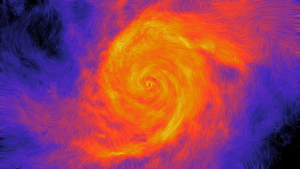 About HITS
HITS, the Heidelberg Institute for Theoretical Studies, was established in 2010 by physicist and SAP co-founder Klaus Tschira (1940-2015) and the Klaus Tschira Foundation as a private, non-profit research institute. HITS conducts basic research in the natural, mathematical, and computer sciences. Major research directions include complex simulations across scales, making sense of data, and enabling science via computational research. Application areas range from molecular biology to astrophysics. An essential characteristic of the Institute is interdisciplinarity, implemented in numerous cross-group and cross-disciplinary projects. The base funding of HITS is provided by the Klaus Tschira Foundation.