Registration open: Biological Diffusion and Brownian Dynamics Brainstorm 5 (BDBDB5)
26. January 2021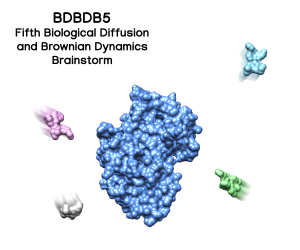 Biological Diffusion and Brownian Dynamics Brainstorm 5 (BDBDB5: https://bdbdb.h-its.org/) will take place in virtual format on 24-25 March 2021.
We will have four exciting talks by invited speakers – Aleksei Aksimentiev (University of Illinois at Urbana-Champaign, USA), Gerhard Hummer (Max Planck Institute for Biophysics, Frankfurt, Germany), Syma Khalid (University of Southampton, UK) and Roseanna Zia (Stanford University, USA). You can find the program here: https://bdbdb.h-its.org/program.html
Please register to participate and submit abstracts for contributed talks by 28 February 2021 at https://bdbdb.h-its.org/registration.html
We look forward to seeing you at BDBDB5,
– BDBDB5 Organizing Committee-

Rebecca Wade (HITS/Heidelberg University), Rommie Amaro (University of California, San Diego, USA), Stefan Richter (HITS), Lane Votapka (University of California, San Diego, USA), Ariane Nunes-Alves (HITS), Abraham Muniz Chicharro (HITS)
About HITS
The Heidelberg Institute for Theoretical Studies (HITS) was established in 2010 by the physicist and SAP co-founder Klaus Tschira (1940-2015) and the Klaus Tschira Foundation as a private, non-profit research institute. HITS conducts basic research in the natural sciences, mathematics and computer science, with a focus on the processing, structuring, and analyzing of large amounts of complex data and the development of computational methods and software. The research fields range from molecular biology to astrophysics. The shareholders of HITS are the HITS-Stiftung, which is a subsidiary of the Klaus Tschira Foundation, Heidelberg University and the Karlsruhe Institute of Technology (KIT). HITS also cooperates with other universities and research institutes and with industrial partners. The base funding of HITS is provided by the HITS Stiftung with funds received from the Klaus Tschira Foundation. The primary external funding agencies are the Federal Ministry of Education and Research (BMBF), the German Research Foundation (DFG), and the European Union.