BSc/MSc thesis or internship in molecular biomechanics at Heidelberg University
The Molecular Biomechanics (MBM) group at the Centre for Advanced Materials (CAM) Heidelberg is looking for a highly motivated student (m/f/d) with background in biochemistry/biophysics (advanced BSc or MSc level) who is interested in working on an experimental project on mechanoradicals generation and degradation in collagen tendons and peptides.
How do proteins respond to and sense mechanical forces? Become a part of our interdisciplinary team to further unravel the role of mechanoradicals in mechano-sensing, as recently discovered by us in collagen, the most abundant protein of our body (Zapp et al., 2020). You will get trained on cutting-edge biophysical/biochemical methods at the interface of materials science and biology, and will tightly interact with the simulation branch of the group. You will work at CAM, where the MBM has recently set up a new state-of-the art laboratory hosting a brand-new electron-paramagnetic resonance (EPR) spectrometer and access to other CAM facilities.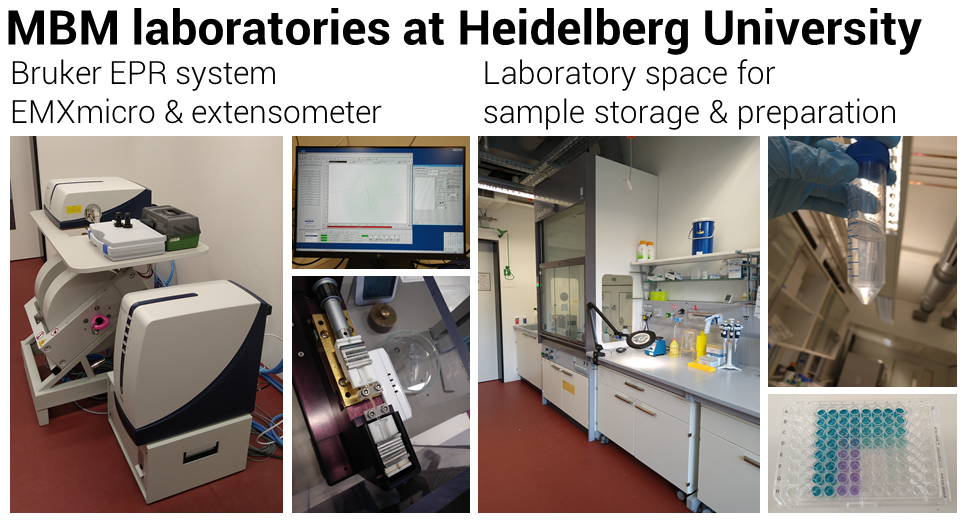 Your project can focus on:
Mechanoradical measurements at our EPR spectrometer, including sample preparation and strain measurements of different types of collagen tendons
Measurements of hydrogen peroxide generation as final product of mechanoradical degradation using biochemical assays
Developing a protocol to mimic ageing by introducing artificial crosslinks into collagen with subsequent evaluation of mechanoradicals
Deciphering the role of metal ions or methionine in radical generation and scavenging in collagen
You should be motivated to take part in methods development and have a prior knowledge in bioassays and/or EPR spectroscopy or be willing to learn these techniques as part of the project.
Interested? Apply now! Please send by email to frauke.graeter@iwr.uni-heidelberg.de with your motivation for the project and your CV and transcripts.