Season's Greetings!
15. December 2020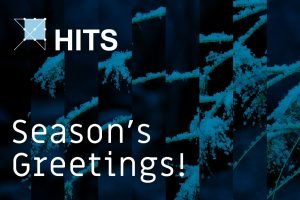 We had looked forward to this year with great anticipation because on 1 January 2020 HITS celebrated its 10th birthday. Therefore we invited distinguished guests to our anniversary reception in January, to start a bunch of special events and activities. We had planned a series of public talks in the MAINS in Heidelberg. At the first event in February, Frauke Gräter and Isabel Martin presented "proteins in the crash test."
But in March, a real crash smashed all these plans: Corona. Many events had to be canceled, others we shifted to the digital sphere. As our lab is the computer, we had fewer problems than other institutes, but we all miss meeting each other in person. At least, we participated in the virtual NCT run, separated by distance but united in spirit. The HITS team of 30 runners completed a distance of 427 kilometers and thus raised a donation of 10,000 Euros.
From a scientific perspective, however, this year turned out to be most gratifying: Our researchers participated in COVID-19 projects, from data management and standardization to the search for apt medicine and COVID-19 forecasts – projects no one had thought of in January. But also "non-Corona" related research was successful: new, "explosive" findings on dying stars, a study on collagen with an impact on material research and biomedicine, or an easy-to-use open-source online platform for biomedical image segmentation.
By the way: We have been presenting the research highlights of the last ten years in our Blog "Via Data", and we will continue to do so beyond this anniversary year.
Regarding the HITS workforce, we literally reached for the stars: In September, the asteroseismologist Saskia Hekker joined HITS as group leader. Now, in December, she won an ERC Consolidator Grant for her research on the sound of the stars. At the same time, biophysicist Frauke Gräter won her ERC Consolidator Grant, who will receive funding for her project on radicals in collagen.
And we received even more funding by the ERC this year: HITS will be participating in an ERC Synergy Grant for measuring the true scale of the Universe, with Kai Polsterer's Astroinformatics group as a recipient. And astrophysicist Fabian Schneider has received an ERC Starting Grant for his project on the evolution of stars. He will use the funds to establish his own research group at HITS in January 2021. Speaking of stars: For five years running, Clarivate Analytics found computer scientist Alexandros Stamatakis to be one of the most cited researchers in his field worldwide.
As in previous years, we have decided to donate money to those who are less well off, instead of sending gifts to our friends and partners. The Klaus Tschira Foundation has again provided us with a total of 5,000 euros for this purpose, which will be divided evenly between the "Waldpiratencamp" ("Forest Pirate Camp") – which is organized by the Children's Cancer Foundation – and the "Kinderplanet" ("Children's Planet") project.
We all hope that the pandemic will be contained next year, via new vaccines, medicines and worldwide joint scientific efforts. Our researchers will carry on contributing to this huge mission.
We send you our best wishes for a peaceful holiday season and a successful New Year. And above all: Stay healthy!
About HITS
HITS, the Heidelberg Institute for Theoretical Studies, was established in 2010 by physicist and SAP co-founder Klaus Tschira (1940-2015) and the Klaus Tschira Foundation as a private, non-profit research institute. HITS conducts basic research in the natural, mathematical, and computer sciences. Major research directions include complex simulations across scales, making sense of data, and enabling science via computational research. Application areas range from molecular biology to astrophysics. An essential characteristic of the Institute is interdisciplinarity, implemented in numerous cross-group and cross-disciplinary projects. The base funding of HITS is provided by the Klaus Tschira Foundation.